My birthday was this past Sunday, and some friends and I went to Poppadom's for a fine Indian dinner. They brought me a slice of chocolate cake with a sparkler, plus one for Don, whose birthday was on Saturday. We had a great time there, as usual. I tried Tree Brewing's Thirsty Beaver pale ale, which helped tame the curry. It was a delicious evening out with friends.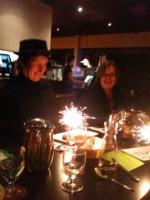 Also for my birthday, Gail (aka Mrs. Electric Bard) rented me a Squier Classic Vibe Telecaster.
It's a really great guitar. I love the way it looks.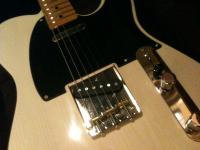 The sound is very Tele-esque, with a nice commanding bottom end. Playing individual notes it sounds very good and can really go from jazz to full-on twang no problem. It also sounds great doing blues. Saturday night I debuted it onstage at our UBCO gig for Art on the Line.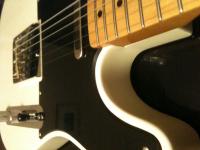 It occurred to me that the middle position on this Tele actually sounds a like the tone I used to pull from my stolen custom-built Les Paul. At one time I owned a walnut Les Paul that was built for me by a luthier named Gord Litster. It was a beautiful guitar, and if I can find any good pictures I will post them. I experimented with pickups on it over the years I had it, but when I last saw it there was an EMG-85 in the tail position and a standard Gibson PAF in the front. The thing was, though, that the guitar had a mini-switch that let me throw the pickups out of phase, and this was the position I used the most. It gave the guitar a slightly thinner, more nasal kind of sound, but still had plenty of sustain. The Tele gets that kind of in-between sound in the middle position too, and it sustains amazingly well (better than my Robert Cray Strat, which is a hardtail and sustains fairly well since I swapped out the original bridge saddles).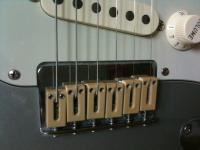 Is the Squier Classic Vibe Tele the ultimate Les Paul, then? Well no, not quite, but dang, I am having a lot of fun with this guitar. If you're into Fenders and dig the oldies, check out the Squier Classic Vibe. Ignore the 'Crafted in China' decal and pay attention to the tone, fit and finish, wonderful colour and wood grain of the pine (!) body, the comfortable tinted neck, and guess what it's all worth before you look at the price tag. I think you'll be pleasantly surprised.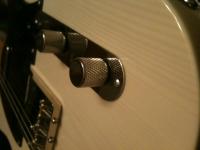 Last but not least, here are a few photos we found recently of Gail and I performing onstage with Randy Bachmann at Bluebird North in Vancouver, several years ago. Wow!